More time for you to write
AI, an ally for national and local newspapers
"AI for daily news": an unexpected pairing. Text automation can elicit many fears and preconceived notions in the minds of journalists… Wrongly so, because it is proving to be a fantastic ally for local and national news outlets. How can it help? Automated Text Generation (ATG) reduces the volume of tedious and unfulfilling tasks which take up your editorial team's precious time.
The freedom for you to report
What motivated your choice of profession if not the adrenaline rush of investigation, analysis, and a passion for field reporting? You probably didn't expect to spend most of your time as a journalist rephrasing news briefs, diligently reporting on the most trivial topics, transcribing sports results and other repetitive tasks… This type of content may not be the most exciting to you, yet it is of interest to a large audience and should not be neglected. It attracts a significant amount of traffic… But the story doesn't end there. Let's take a look at the numerous benefits of AI for newspapers and magazines in the Digital Age!
More traffic, more ways to deliver news
Generate content in a click and boost your traffic
Did someone say "traffic"? We are talking about one of your major performance indicators. Indeed, the more readers see your content, the more likely they are to subscribe to it. But why your media rather than another? Your editorial line and your aura, that goes without saying… but what else? This is where mass content comes in. Think "small topics" such as the weather, horoscopes, local events… Whoever checks the weather on your site will be more likely to check the news and read the other, more qualified articles. Don't neglect these "small topics" as they are key entry points to your bigger stories.
Multilingual and versatile texts thanks to data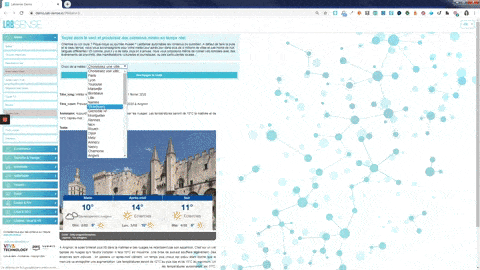 Using data, our solutions are able to generate multilingual texts natively. It is now possible to follow the news in real-time and instantly create optimized, easy-to-read content on every region, city and town in France and further afield! For example, you can generate weather reports for hundreds of locations in the click of a button.
Don't struggle against a never-ending to-do list. Let LabSense take some tasks off your plate. Thanks to ATG, you can create an article for each of the 34,968 communes in France, every day, and most importantly, without effort! Temperature, hourly updates, wind speed, next-day forecasts… You can cover villages that have been deserted by news correspondents until now. Say yes to more thorough coverage!
More topics, more angles
Room for niche and amateur subjects
More time for editorial staff, fresher minds, and an era in which "niche" or seemingly less profitable subjects get their share of airtime too! Let's take the example of basketball in Strasbourg. We can imagine dedicating a column to "amateur" basketball, all genders, all divisions, to attract a new fan readership. But journalists have to prioritize reporting on the big teams, and with only so many hours in a day, they may find themselves cutting corners when it comes to the lesser known teams.
Focus on in-depth stories and vary the formats
Thanks to AI, journalists are now able to delegate news items, cover more topics and focus on more in-depth analyses of the subjects that interest them or their readers. Intelligent generation can not only produce text, but also images and tables, topics and reports that journalists would not otherwise have been able to create due to a lack of resources (time and means), on condition of access to data.
More frequent news updates
Enrich and cross-reference data for more search engine queries
Data, data, data… another aspect of content generation that deserves a lot of attention. LabSense content generation comes from data. This allows us to be perfectly in sync with the news as it happens. It is easier to feed data from external sources and to cross the data, rather than enriching a text after multiple rounds of proofreading and editing.
Strengthen articles with a solid base for analysis
The direct connection between text and data enables you to deliver information in real time: a definite added value for Internet users but also for journalists who rely on all this information to support their analyses. Fuel prices, road traffic, weather alerts, heat waves, pollution index, mapping the best prices according to specific criteria, alert systems… There are plenty of possibilities.
More content for better search engine rankings and advertising revenue.
Engage your readership without cutting back on essential daily information
Ultimately, the aim is to reconnect with your readership by providing high quality content without compromising on the trivial information that is essential for daily life. By staying relevant, you will become more of an authority on the given topic and thus improve your natural referencing.
Multiply your advertising inventory
More qualified content, published more frequently, means more traffic for local media sites and more advertising revenue.