LabSense, member of the 9th Lafayette Plug & Play promotion
From November 2020 for 14 weeks, LabSense was part of the 9th promotion (Batch 9) "New Normal" of the Lafayette Plug & Play accelerator alongside 18 other start-ups and scaleups. LabSense was one of 9 start-ups to join the "Late Track" program, which helps them to break into French and European markets, while the "Early Track" program helps them to expand internationally.
The aim of the program? To enable retailers to accelerate their commercial growth and immediately deploy their digital transformation.
Pieter Lammens, Director of Lafayette Plug and Play, adds: "The current health crisis has accelerated the development of new consumer trends to which retailers need to adapt as quickly as possible."
The five key issues in retail innovation on which the members of the new promotion have focused:
New Distribution Channels,
Increased Content,
Circularity & Ethical Commerce,
Boosters e-commerce,
One-stop shopping.
Lafayette's Plug and Play program, which is now called Plug & Play Retail, ran virtually this year, enabling increased collaboration and acceleration around the world. Thanks to the support of the 141-strong alumni community and a strong ecosystem of hundreds of startups and scaleups, the 9th promotion was fuelled by 28 deal flows to foster business opportunities between the startups and 16 corporate partners.
Closing event for the 9th promotion
Expo Day 9 on December 3rd, 2020 brought this promotion to a close, with over 450 participants from all over the world. The aim of the day was to highlight new solutions that could be exploited to accelerate the digital transformation of players in the retail and e-commerce sector.
The 19 start-ups were able to present their work and advances, with LabSense in the "Enhancing e-commerce" category. E-commerce enhancements, often powered by AI and ML (Machine Learning), aim to deliver a frictionless, hyper-personalized customer journey to consumers across all digital platforms and channels. Their mission is to help brands and retailers increase conversion rates and limit returns.
Awards ceremony
3 prizes were awarded on the day:
Elya Hasson, Chief Data & Digital Officer of the Etam Group, won the Corporate Commitment Award.
Alina Bassi, founder of Kleiderly, won the Early Stage Start-up Award
Guillaume Desombre, CEO of LabSense, won the Late Stage Start-up Award.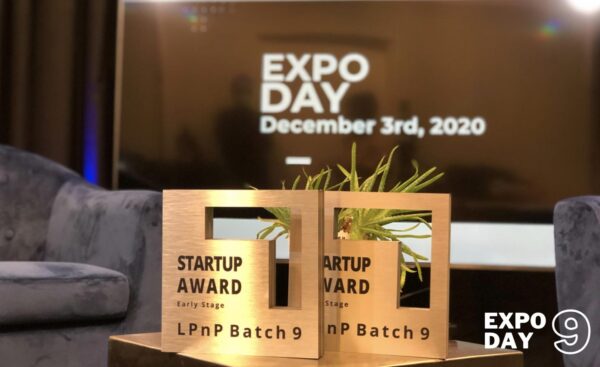 Guillaume Desombre explains that "content is essential at every level of the conversion funnel. Retailers and brands need to produce large amounts of written and regularly optimized content".
We'd like to thank the Plug&Play accelerator teams for their confidence throughout the program, as well as our partners and advisors. And a big thank you to all the voters who helped us win the Late Stage Start-up Award.
Congratulations to all the start-ups and scale-ups at "Batch 9". It was a pleasure to meet you/e-meeting and to be part of the batch.
The 18 start-ups and scale-ups in the 9th promotion of Lafayette Plug & Play
Aive – FRANCE
Booxi – CANADA
Branch Metrics – USA
Buywith – ISRAEL & USA
Contreeb – FRANCE
Element AI – CANADA
Gocomo – GERMANY
Hipli – FRANCE
Kleiderly – GERMANY
LabSense – FRANCE
Paptic – FINLAND
Paywax – FRANCE
Presize – GERMANY
RevLifter – UK
Riskified – ISRAEL & USA
Spirable – UK
Stocklear – FRANCE
The Fabricant – NETHERLANDS
WalkOut – ISRAEL